GIZIL Wins NRW Global Business Award 2023 in Germany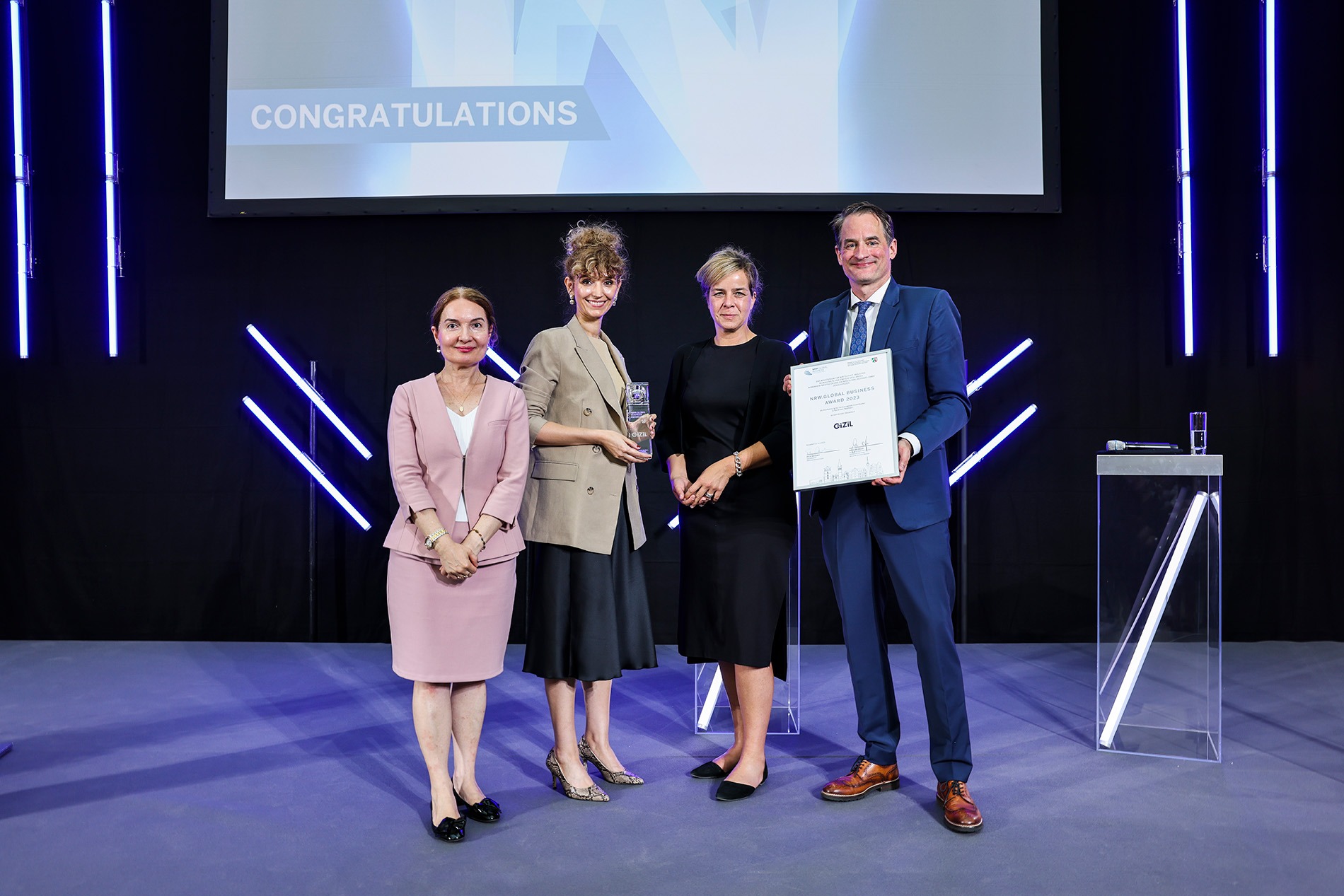 GIZIL has received an award at the prestigious NRW Global Business Award 2023, organized by NRW Global Business, for its exemplary contributions to the economic development of the North Rhine-Westphalia (NRW) state in Germany. This year's awards were given to four companies from the United States, India, Turkey, and NRW (North Rhine-Westphalia).
Esma Gülten and Ali Utku Çan, the co-founders of GIZIL, received the award from Mona Neubaur, the Minister of Economic Affairs for the North Rhine-Westphalia State of Germany, Ayşegül Gökçen Karaarslan, the Consul General of Düsseldorf, and Felix Neugart, the CEO of NRW.Global Business.
GIZIL, a young Turkish technology and engineering company, owes its success to four key focus areas: engineering, construction, digitalization, and energy solutions. By integrating construction and engineering with digital solutions, GIZIL enables its customers to construct, upgrade, expand, operate, maintain, and rehabilitate their facilities.
Having opened its Düsseldorf office in 2022, GIZIL specializes in creating digital twins of industrial facilities, including refineries, petrochemical plants, tank terminals, and chemical production facilities. Through the software products of Virtual Plant Technologies, a new start-up company founded by the co-founders, the real-time status of a facility can be monitored, and all processes can be digitally reproduced. Asset management, maintenance management, and digital training are among the digital solutions offered by GIZIL and Virtual Plant Technologies.
GIZIL's engineering and digitalization solutions, covering the entire lifecycle of customer facilities, help with process optimization, cost reduction, and lowering CO2 emissions. These services include multidisciplinary design and engineering, laser scanning, intelligent modeling, software development, virtual reality, and augmented reality, among other advanced technologies.
Esma Gülten said the following regarding the award: "As GIZIL, we have succeeded in reversing the engineering services that come to our country from Europe. Exporting innovative technologies is a new beginning for us. This success belongs to the GIZIL team, which has a vision, strives to do better every day, and is dedicated to expanding the boundaries of the industry. As women, we should become more visible in the technology and engineering sector and take on leadership roles.
GIZIL's award win is an indication of Turkey's increasing influence in the international arena of engineering and technology sectors. The company remains committed to maintaining its pioneering role by offering engineering services in the global market and continuing to innovate.